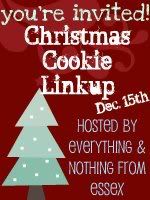 Deanna from
Everything and Nothing From Essex
has come to be a great blogging friend. When she wrote me and asked if I would like to co-host her first linkup- a virtual Christmas cookie exchange- I didn't have to think twice. It's cookies, for goodness sake! (Not to mention she'd just generally awesome.)
My
absolute
favorite would have to be the old standby- the Betty Crocker
sugar cookie recipe
. It's the recipe I use every Christmas, just like my mom did for all our Christmases. (I even used them for Millie's
sock monkey cookies
for her birthday party!) I have already made them several times this year, and have a plate of them in my kitchen right now.
(They'll be gone soon.)
But recently, I discovered a new recipe that will probably be added to our family Christmas traditions. I found them the way I've found most of my recipes of late: through the wonder of
Pinterest
. I love all things lemon, so I had to give these a try. After their debut at our house, I can tell you that they received rave reviews!
(makes 2-3 dozen)
Ingredients:
½ cups butter, softened
1 cup granulated sugar
½ teaspoons vanilla extract
1 whole egg
1 teaspoon lemon zest
1 Tablespoon fresh lemon juice
¼ teaspoons salt
¼ teaspoons baking powder
⅛ teaspoons baking soda
1-½ cup all-purpose flour
½ cups powdered sugar
Preheat oven to 350 degrees. Grease light colored baking sheets with non-stick cooking spray and set aside.
In a large bowl, cream butter and sugar together until light and fluffy. Whip in vanilla, egg, lemon zest, and juice. Scrape sides and mix again. Stir in all dry ingredients slowly until just combined, excluding the powdered sugar. Scrape sides of bowl and mix again very briefly. Pour powdered sugar onto a large plate. Roll a heaping teaspoon of dough into a ball and roll in powdered sugar. Place on baking sheet and repeat with remaining dough.
Bake for 9-11 minutes or until bottoms begin to barely brown and cookies look matte (not melty or shiny). Remove from oven and cool cookies about 3 minutes before transferring to cooling rack.
*If using a non-stick darker baking tray, reduce baking time by about 2 minutes.
I would recommend doubling this recipe, because they go fast!
Now head on over to
Everything and Nothing From Essex
, and link up your own Christmas cookie recipes! (And follow her while you're there- she's pretty great at writing posts that can make me laugh
and
cry.)
And on two notes of business...my blog swap post at
A Little Pink in a World of Camo
is now up!
Be a dear and leave me some comment love?
Also, there are seven days of
Christmas Giveaways
still open, so if you haven't entered them yet, don't wait!