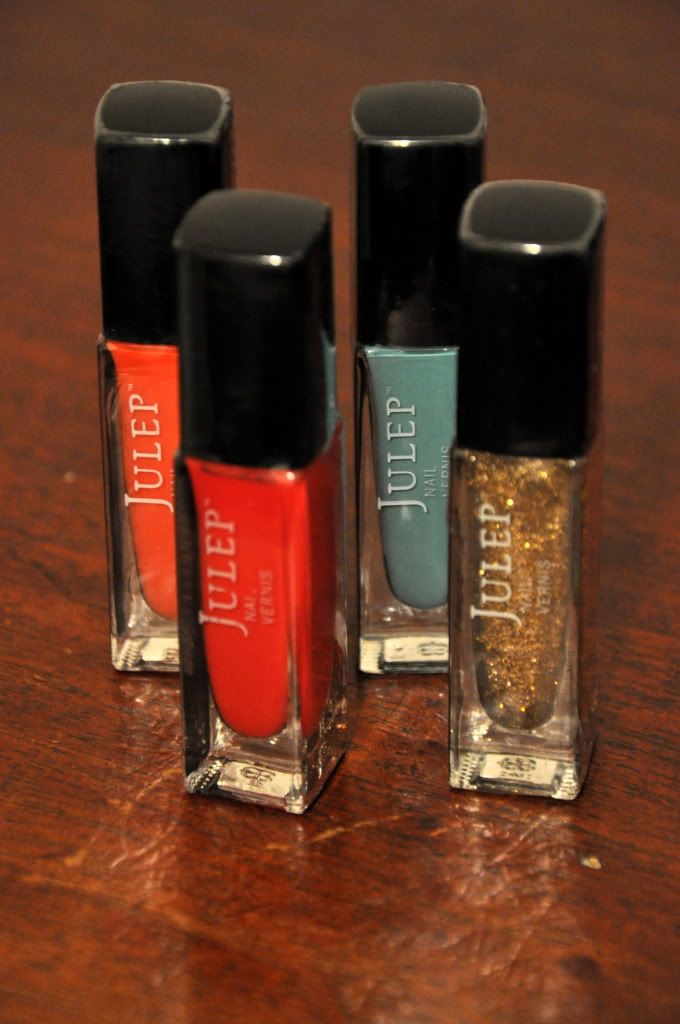 You may remember me mentioning
Julep's penny promotion
in
this
post
, where you enter the code MAVENINTRO (or PENNYINTRO)
at checkout and get a Julep box for $0.01 (plus free shipping). The thing is, I don't get to do a lot of fun, girly things for myself, so I jumped at the chance to pay a penny for some pampering. I'm glad I did!
You take a little quiz, and they send two full size polishes and an extra something fun based on your answers (and if you don't like what they picked out for you, you're allowed to take the quiz again). Every month's box is different, but July's came with two polishes and a cucumber pedicure scrub. It's kind of a big deal, since their polish alone is normally $14 a piece.
Mine arrived in the mailbox a few days ago. I'm usually not too excited about the idea of those monthly boxes, but I was pretty happy to pay a penny for one! I'm a sucker for getting mail as it is, so one cent beauty products in the mail were especially fun. Everything was wrapped up in cute paper and a pink ribbon, and came with a couple foam pedicure pieces, too. I really like the colors (the "robin" shade looks like a pretty Tiffany blue in real life, and the gold glitter delights the 14 year old girl in me).
So if you're interested in getting all-but-free nail polish, click
THIS link
to sign up (I get referral points!), and then "Get Started" to take the quiz.Once you sign up, you get a free month for every two people you refer, and it adds up quickly! I'm officially hooked.
http://www.julep.com/
?r=22421820
I'm excited to see next month's shimmery colors (below is the box I'll be getting, plus another free nail polish of my choice since I'm a new customer!)
And while we're loosely on the topic of that previous post, you may remember me saying that Sky is
taking his official, all-or-nothing PT test for the Reserves on August 1...well, after a week of working third shifts (he usually doesn't) and getting no sleep, getting sick, going to the doctor, and having to take antibiotics, plus a few other things, he's decided to go ahead and wait until the September drill, when the entire unit takes it. I was initially not so thrilled with the idea and was really hoping to have to worry and stress behind it, but I also want him to have the best chance of passing, and after the week we've had, September seems to be the best chance. I would ask that you continue to keep him in your prayers as he keeps working out to prepare for the test. Thanks so much! The good part of this is that is sounds like we'll definitely be able to go to Seattle in August for Strong Bonds. So I'm hoping to make a 2 1/2 years late honeymoon out of a conference weekend- I'll take it!
(By the way, Julep did not paid me to write this post and knows nothing about little old me.)