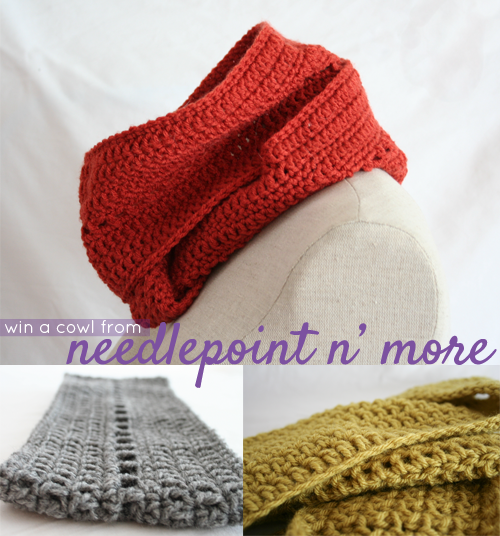 My dad was recently at a bakery/cafe place. Never mind that he was actually with me. He looked across the room and thought he saw me- the girl had long hair, boots, and he said, a scarf. That's how much of my trademark they must be for me, if I (apparently) look like every woman in a scarf! I love them- nothing cozier in the winter time, and especially nothing like these gorgeous cowl ones you see above. I'm drooling a bit. Today's giveaway sponsor also happens to be the mother to one of my sweetest friends, Fran from Freeborboleta.
Here's a little about the shop:
"Opened in 2007, Needlepoint N' More was started by Gloria (mom of Fran at Freeborboleta) as a way to share her love for crafts with others. Since then it has grown more than she could have ever imagined. Crocheting and knitting have taken over the shop, however, the love with which each item is made remains."
You can find Gloria here:
What you could win: A custom color scarf!
"We are excited to share with you one of our most popular products, a hand-made infinity scarf/cowl in your color choice (YES, you get to pick the color since our products are made to order!). You can dress up any outfit with our beautiful crochet cowls, handmade in soft acrylic yarn.
They measure approximately 52 inches long by 5.5 inches wide and will wrap around your neck twice."
Open to US and Canada.