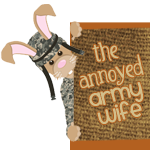 The Annoyed Army Wife- aka Michelle. She asked me a few weeks ago if I would be
one of a few guest bloggers
to sub in for her while she is en route to pick up her husband who just returned from deployment. Normally, guest blogging makes me at least a 5 on a 0-10 scale of nervousness- the pressure to write something guest-worthy, the sudden writer's block I get as if I have never blogged before in my life, etc.
Guest blogging for her was at least a 9.
I was so terrified that I couldn't live up to her writing. There are some girls who write homeruns occasionally, and whatever they do in baseball that isn't a homerun (one base?) most of the time. Michelle knocks it out of the park every single time with her wit and humor. She has me giggling on a regular basis. So I was honored and completely scared to death.
Anyhow, that is all to say this:
go read my post
! It won't live up to the usual fare on her site, but I gave it my best shot. Make sure to follow her while you're at it.
Enjoy!