One of my favorite things about blogging is that it can spill into real life. We can be friends, you and I. And one of my friends, Beka from 'Hold On, Love...', painted a picture just for
me
! All she asked was what styles I liked based on some of her other paintings, and my favorite quote by e. e. cummings. She
wrote a little about it
, and I
gushed about it
, but now it's finally up on my wall. And every morning, I get to look up and see a bit of this world wide web as something beautiful and personal. (P.S. Go check out
her paintings on Etsy
!)
Her sweet note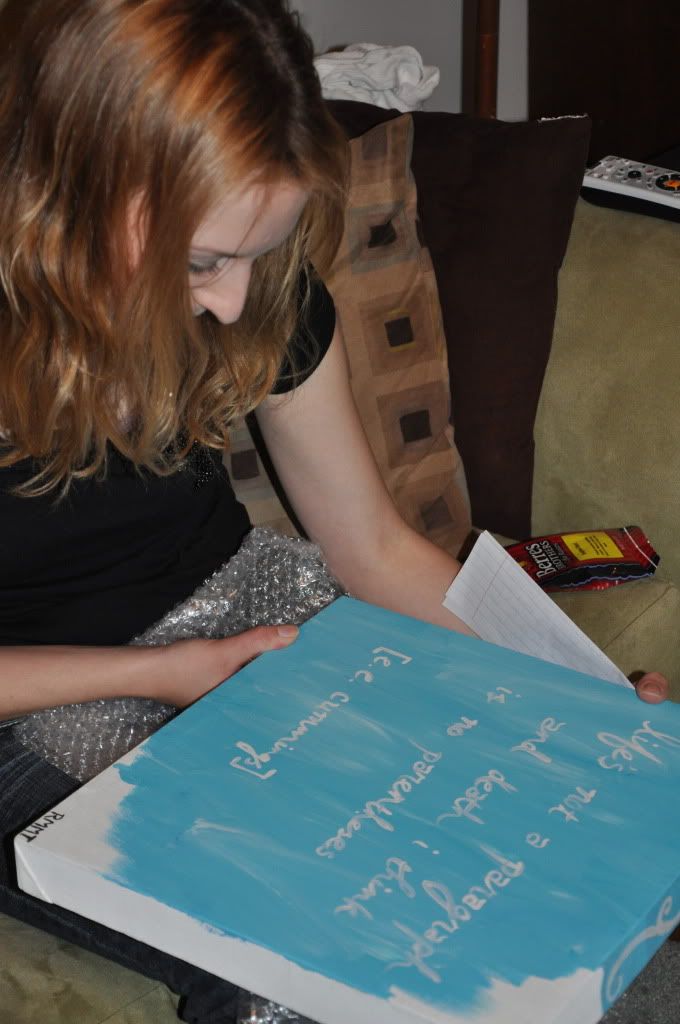 Opening the box and loving the smell of the coffee she so sweetly included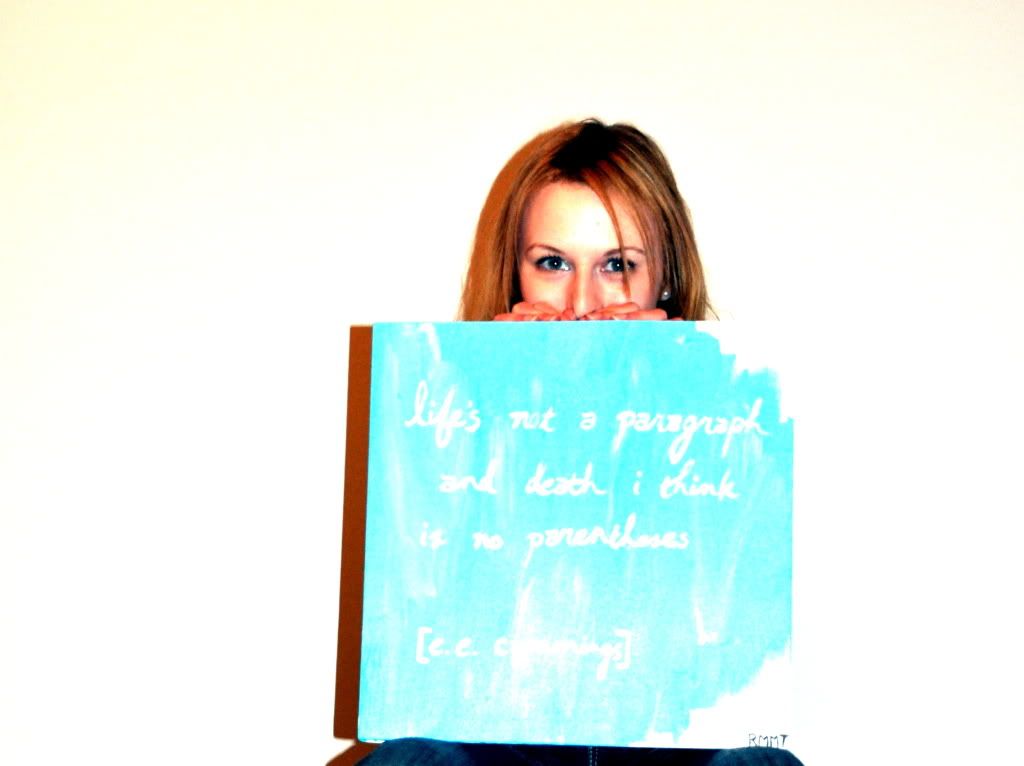 I love it!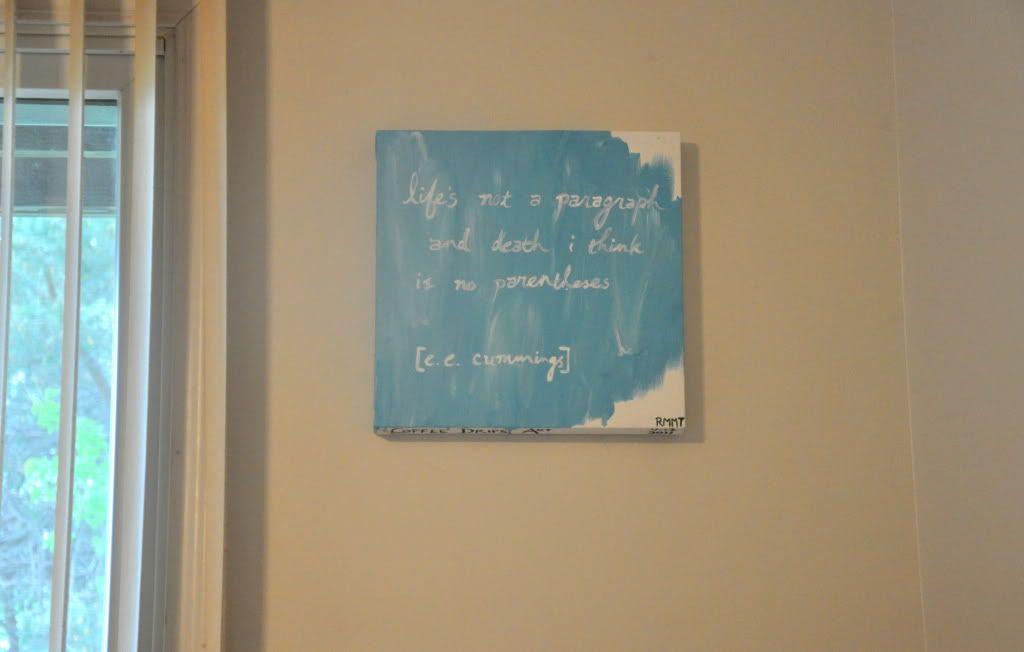 Hanging proudly in my living room
I also won a couple things this week (strange because I am known for my horrible luck in contests)!
I won this handmade print from
Miss Alana's Miscellany
. Isn't it lovely? The blue even matches my painting. I'm glad something other than green is overtaking my house- I can't handle any more green around here.
And I won this locket necklace from the saucy
No Model Lady
. She made this from a vintage brooch. I have to admit, seeing this caption on her blog made me laugh. A cameo has never been so sexy.
And finally, a blogging item that stays in blogworld. I was given this award from J at
Life as a Secret Squirrel's Other Half
. Thanks, J! The instructions are to share 7 things about me
and to pass it on to a favorite blogger:
1. I just wrote an article for
Homefront United Network
, and cried all the way through it. I know it's normal to cry sometimes when you
read
things, but is it okay to cry when you're the one doing the writing? Hmm.
2. I'm wondering if "versatile blogger" is code for "I haphazardly post whatever strikes my fancy at that moment and tend to have no cohesive themes or niches." If so, I deserve this award.
3. I got a Target giftcard for Mother's Day (from my mama), and happen to also have a coupon for this brand- I have been debating
this dress
. What do you think? Is it too old for me? I have no clue what kind of shoes I'd wear, either. I've also drooled over
this shirt
and
this tank top
for a while. Have I mentioned how in love I am with Target?
4. I like 'kid candy'. Everyone else my age seems to have moved on to sophisticated things like chocolate, but I still prefer Fun Dip, candy buttons, Skittles, gummy bears, etc.
5. There are still a few years before I turn 30, but I already think about it a lot. 30 sounds like something that parents do. Yes, I know I'm a parent. That's not the point. I'm too young for 30.
6. While Sky was still in Afghanistan, I talked to both a National Guard and an active Army recruiter. I was serious enough to completely fill out the Guard application. But Sky got home, and I never turned it back in. I can't even imagine what life would be like now if I had gone through with it.
7. I sometimes wish Millie's clothes came in my size. Not because I want to be all mother-daughter-matchy about it, but because I tend to like her outfits much better than my own.
I think that's it! There are ever so many blogs I could pass this award on to, but that would probably bore you, so I'll keep it to a few for the sake of time:
-Obviously, miss Beka from
Hold On, Love...
, Alana from
Miss Alana's Miscellany
, and the lovely
No Model Lady
. Thank you for all my beautiful things, ladies!
-
Moewenackie
and
Consider the Lilies
- two awesome fellow National Guard wives.
-
Vintch
, who is a
beautiful
writer.
-Nicole from
Being a Marine Wife
. I feel like I've gotten to know her a little through blogging.
-Deanna from
Everything and Nothing from Essex
. She can't write a bad blog post!
-My grade school friend Amber, from
Life Not Finished
. I'll be guest blogging for her very, very soon!
-My high school friend Alice, from
Reading Rambo
...partially because she writes about good books, but definitely because she cracks me up in a way no one else can.
- I also would have nominated Charla from
Heart Like Mine
, but she just got this award! Oh well- you get it again!
Yikes...that turned out long anyway...I should have just posted my Google Reader list!