Memorial Day was fairly uneventful for us...as far as big stuff. We went to my dad's on Sunday for some awesome grilled hot dogs and hamburgers, but that was the major highlight...except...
Millie went swimming for the first time! A cheap baby pool, a rubber ducky, and a few buckets of water made for one happy kid. She had wild hair afterwards, smelled of sunscreen, and took a long afternoon nap. Sky and I had a blast watching her grin and splash like a wild child.
First reaction to the water
She loves it!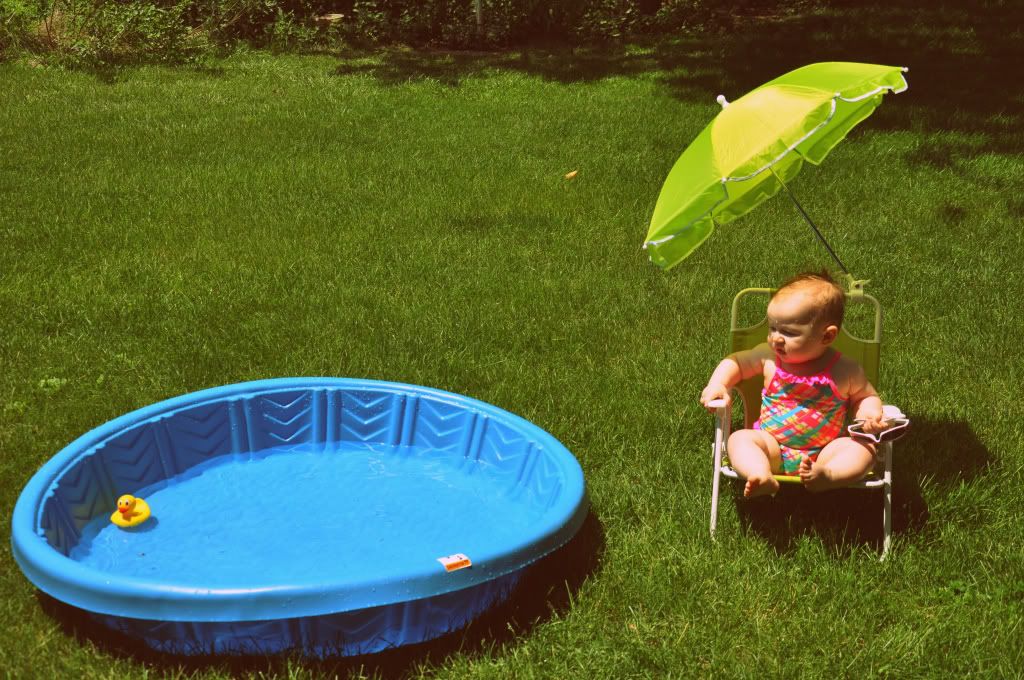 Her lounge chair from Grandpa
A while later, we ran to the store. As we walked past an aisle, a woman nudged the guy she was with and said, "You just missed the cutest baby ever!"
I agree. I am only slightly biased.
Last but not least, I picked up a few things this past week. First:
Ashely
The Mommyhood Adventure
gave me a very sweet award. This is what she wrote:
The rules are to list three ways you and your family silently support the troops, and then pass it on to one other blogger. The thing is, when you're a milspouse blogger, you meet amazing mili girls- and there is no way I could possibly pick one of them. If you're a military spouse, you make sacrifices. If you love someone in the military- whether family or friend- then you know what it's like to miss someone and to worry. So I would pass this on to dozens of you!
The other two cool things are giveaway wins- like a drop dead gorgeous camera purse from
Diary of a Devil Dog Wife
(where I will be guesting very soon, telling you Millie's big news!). I have been dying for a camera purse
for-ev-er
, so I cannot wait to tote this around Chambana. I also won custom cupcake toppers from
5 K's and Chardonnay
. It'll be fun to get something great designed for Millie's first birthday. (Although, just typing that chokes me up- she may not be allowed to have birthdays.)
Hope everyone had a wonderful holiday weekend!