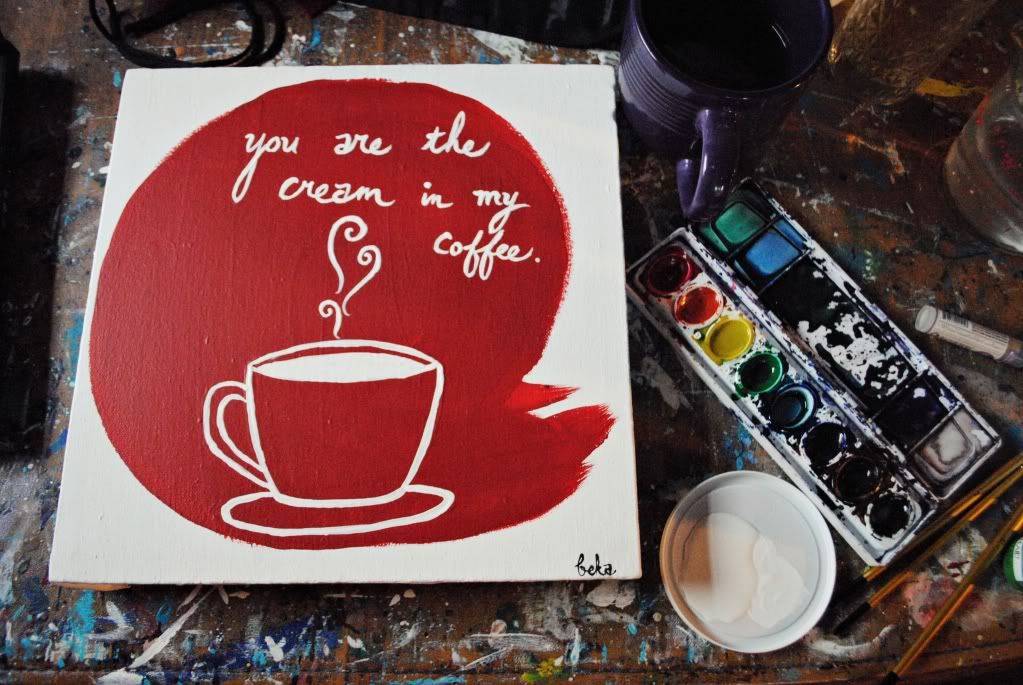 Today's giveaway comes from a blogger I consider a dear friend. If you've been around here long, you know that I think Beka from
Hold On, Love...
is the bee's knees. She always blogs with joy and hope, and she sometimes shows off some of her gorgeous artwork. I actually have two of her paintings in my home, and they make me smile every time I see them. Paintings seem to be flying out of her
Etsy shop
, and it isn't any wonder.
Here's a little bit about Beka and
Coffee Drips Art:
i paint quotes amongst other things; but i also do custom quotes.
feel free to contact me.
:)
my favorite medium so far is acrylic paint.
sturdy canvases.
quiet atmosphere.
i hope you enjoy checking out what i have posted!
Today, straight from Beka, one of you will be winning the canvas above! (
And yes- I'm super jealous.
) The canvas is 12" x 12" x 1 1/4", and was custom made to include in this giveaway. This would be so sweet to hang in your home or gift to someone special! Personally, I'd have to keep it to myself. Honestly, could you blame me?
Leave one comment for each entry. Please include your email address if it's not stored in Blogger.
Remember, to enter any of the Christmas giveaways, you must be a follower of this blog.
The giveaway will end 1 week from today,
and the winner will be announced via Facebook, Twitter, and
the giveaway page
.