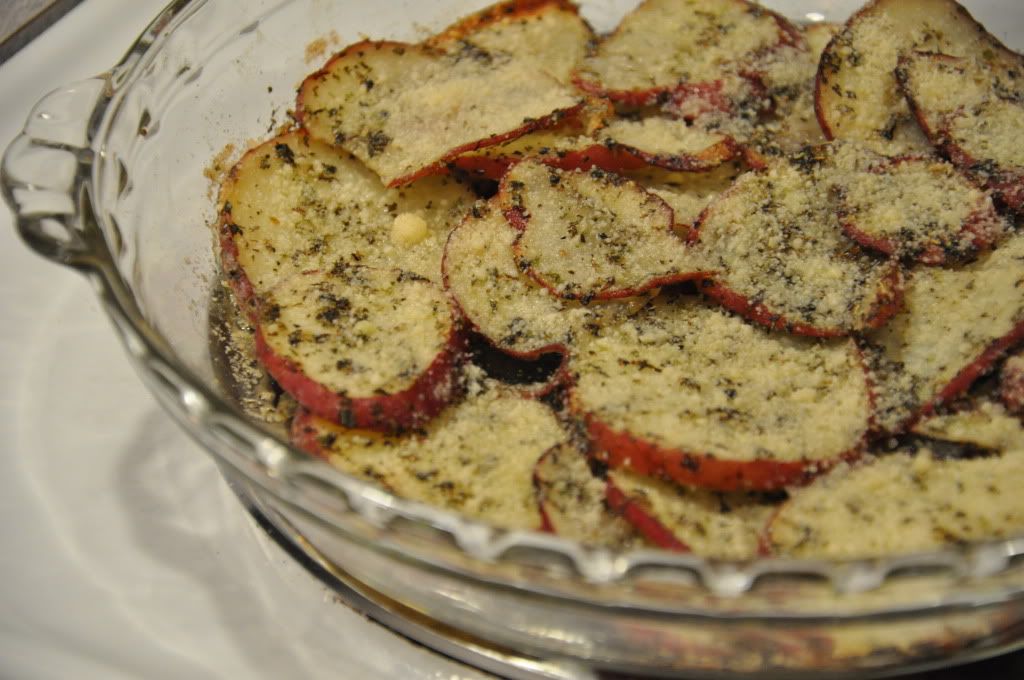 I am the kind of girl who finds something she likes to eat, eats only that thing for a couple weeks straight, gets burned out, and moves on to the next craving. It's been that way as long as I can remember.
My current obsession is oven roasted potatoes. I found the original recipe
here
, and I've made these babies over and over during the meals when Sky is away at work. They are the easiest thing, too.
It's all about the texture on these. Just slice them super thin, and you'll get crispy edges that are out of this world good.
Best Potatoes in the Universe
2 large potatoes
3 Tbsp olive oil (I never even measure this or the seasoning anymore.)
1 Tbsp Italian Seasoning
1 tsp salt
4 Tbsp Parmesan cheese
Slice the potatoes into slices- the big key to this recipe is to get them very thin so they will get crispy around the edges (about 1/4 inch). Put all potato slices, oil, seasoning, and salt into a Ziploc bag, and shake until the pieces are coated well. Line a baking sheet with foil (or I use a 8 x 8 pan-just be sure to not layer them too much) and put them in a single layer. Bake at 450 for 20 minutes, or until lightly brown. Top with Parmesan cheese (again, I just put enough on until it looks good- definitely don't use the whole 4 tbsp) and bake an additional 5 minutes.