Having a sick baby is more complicated than I would have thought. This week of chickenpox has been Millie's first real illness. Colds can be annoying, but this was in a whole other territory. You worry a lot. It's not just hating that they don't feel well- it's keeping constant tabs on their fever, scared as it hovers close to the level requiring an emergency room visit. You spend day and much of the night measuring out droppers of medicine. You rock back in forth in a rocking chair with a tiny girl on your lap whose skin feels like it could singe you, and you try to soothe her cries by distracting her with songs, bubble baths, and another cup of juice.
You also quarantine the house, realizing you haven't been farther than your mailbox in a week. The laundry piles up. Toys are strewn everywhere. You don't have the energy to bother cooking anything. You don't bother changing out of pajamas. It's
not
a pretty sight.
And in all this disarray, my aunt texted me yesterday, telling me she had something to drop off. (The same aunt, I might add, who coordinated everything for my wedding, helped throw me my baby shower, and has always been like a second mother to our family.) She stepped inside just long enough to give me a hug and drop huge gift bags on the floor, full to the brim.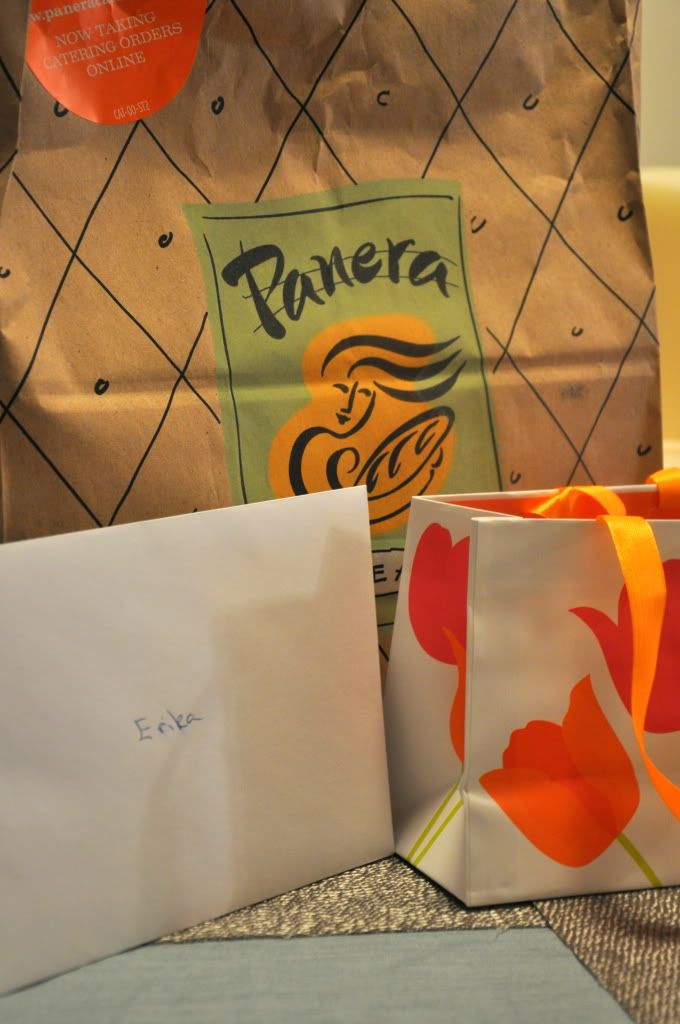 Bewildered, I sat on the kitchen floor Indian style and began pulling things out of the cheerful tulip-print bags. There was a sweet handwritten card and gift certificates. There were cleaning supplies, paper towels, toilet paper, and baby wipes. After this week of hibernation, she magically knew what we needed and what was running low. It's the first time toilet paper has put tears in my eyes.
The literal cherry on top? She had brought me what it quite probably my
most favorite meal in the universe
- spinach and artichoke dip from O'Charley's (and rolls!), broccoli cheese soup from Panera with bread on the side, Junior Mints, and
(gasp!)
individually sized homemade cherry lattice pie- and my aunt makes a mean pie. (She's known for her desserts around these parts!)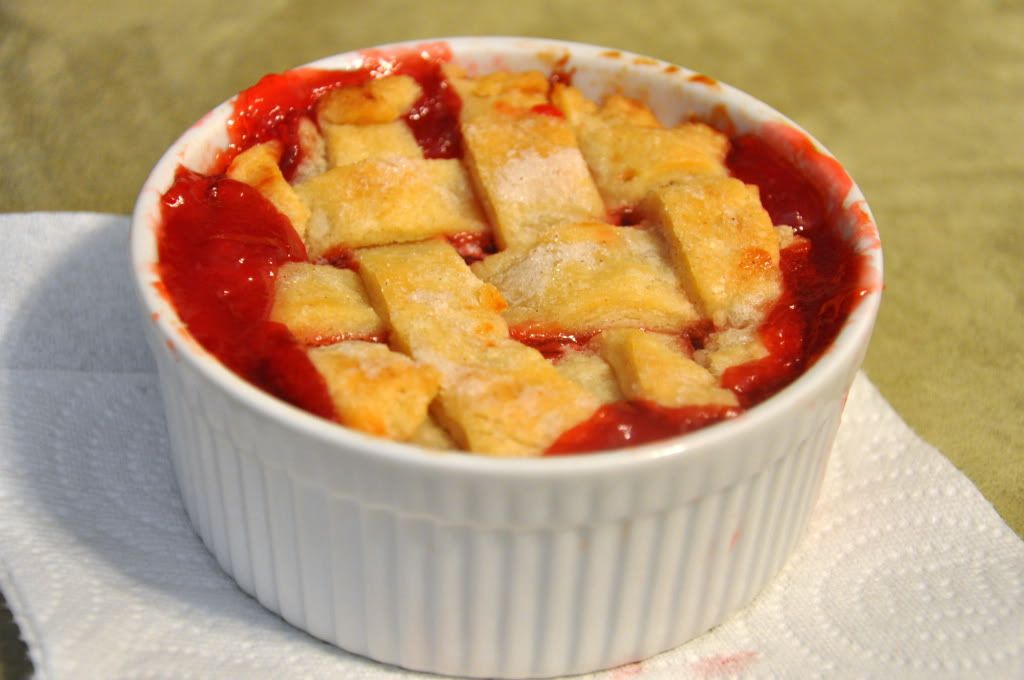 My aunt does this sort of thing quietly, without fanfare or need for recognition. I'm pretty darn lucky to have been born into this family. And, as I wipe cherry pie crumbs off my lips, I'm grateful that soldiers aren't the only ones to get care packages.
Thank you, Aunt Trish.
P.S. Thanks to everyone for the well-wishes. Millie had a whole 24 hours without a fever, so I think she's finally on the mend!