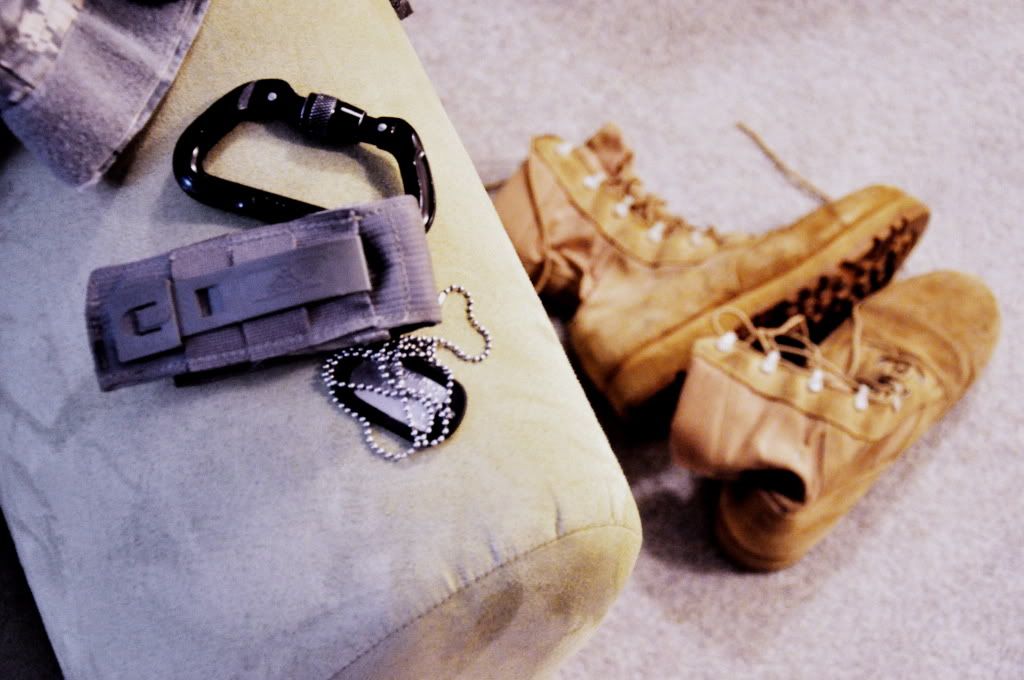 This is what our house looks like the night before drill. Green everywhere. Boots scattered. It's a scramble to get everything stuffed into a bag before bedtime. A trip to the barber happens earlier in the day or the day before.
Like a light switch, it's civilian to military transformation. He stands a bit taller. He packs quickly, rolling things to fit them in, squeezing them into Ziploc bags because it's supposed to rain and they'll likely be outdoors the whole weekend.
And after he's done packing, and taking a quick shower before bed, I sometimes stand in the dim living room and just look at it all. His dog tags. The brand new boots, because Afghan sand long ago ruined his older ones. The patches with our last name. It doesn't look like my last name when it's velcro-ed onto something belonging to the government.
And, briefly, I think about the next time he's gone- not for drill, or AT, or even the months of school down the road. I think of deployment. It will change 20 thousand times before it gets here, but we have a rough idea of when his unit will next deploy. So I think about how old Millie will be. I think about months of being alone. I remember how those months go by at a snail's pace, and the vague uneasiness that doesn't leave your heart until they leave that country. I remember the ache and the hope and even the occasional beauty of it all. Only briefly though- then I come back to the present. It's just a weekend drill. He is safe.
It's not the real thing yet. It's just a drill. And until the day he does walk onto one of those white buses and drive away, I hope that we remember to make the most of the days we have now.