If you haven't seen the Eisley Rae shop yet, you're missing out. This lady happens to have some adorable handmade things like this vintage lace tooth fairy pillow that I love. I spend a lot of time wishing I could sew, but Alyson manages to make lots of gorgeous, hand crafted items and raise two kiddos, too! She very generously agreed to stop by the blog today to tell you more and give one of you a $20 shop credit to spend however you'd like!
Hi there! I'm Alyson, from Eisley Rae. I blog about my life, family, diy projects, sewing, kids, my thoughts & feelings and so much more. A little of everything really. Our family lives in Southern California and always has, although we're trying hard to move to Wisconsin so if you know anyone who wants to hook my hubby up with a job in finance let me know.

I'm a stay at home mom to 2 super sweet kids, Brookelyn (9) and Cohen (4) and a wife to Matt.
Blogging isn't my only "thing" though, I also have a little shop. Sewing a few cute things here & there, crafting, painting and combining my love of vintage with it all makes me happy. In my shop you'll find cute little coffee cuffs and mason jar wraps, sometimes with hints of vintage (in the form of fabric, embellishments or doilies), simple little paintings, a few things for the sweet girl in your life and more.
Thank you so much to Erika for having me here today!
I was thrilled when she asked if I'd like to stop by.
If you visit my blog, shop or twitter be sure to say hi. Meeting new friends is one of my favorite things about blogging and having a shop.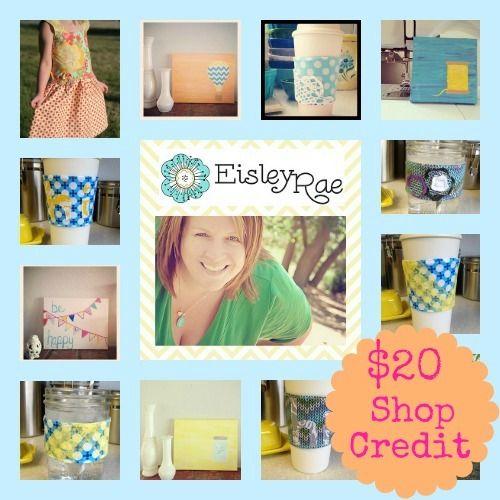 And now for the fun part... One of you is going to win a $20 shop credit to my shop.
I'm always happy to take custom orders as well.
Good luck & have a great week, friends!