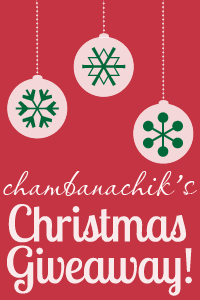 I first started the Christmas Giveaways last year- but one of my favorite things about the holidays is the tradition of it all. Besides, a lot of us need some cheering up right about now. With that in mind, I decided to do them again this year. And you guys...this year is pretty amazing, let me tell you- and even bigger than last year! There will be a few favorite sponsors from last year, as well as some new bloggers, Etsy shops, and big businesses. These are all fabulous prizes- all 24 of them, to be exact!-and I have to say, I'm a bit jealous of the winners already!
It all starts one week from today. If giveaways aren't your thing, then don't worry- even during these few weeks of crazy, I'll still be posting as often as inspiration hits. And if they are your thing, you're in for a treat. There are dozens of prizes just waiting to be sent on their merry way.
And now, for my Christmas Giveaway to you! For everyone who posts the button below on their own blog, just leave a comment with the link to your site (and your email if it's not in Blogger), and one lucky winner will be randomly drawn at the end of the giveaways. I'll be sending you a goody bag full of fun things like lots of nail polish, cute jewelry, fun hair accessories, and other surprises. So grab that button! (You must have the button up through all of the giveaways to be eligible.) Sponsors, you are also eligible, although you may use your sponsor button instead.

One more item to note: sponsorship. If you were ever considering being a chambanachik sponsor, there isn't a better time to do it than right now! If you'd like your ad on my sidebar, just drop me a line at chambanachik(at)gmail(dot)com, and I will send you all the information.
Good luck, and enjoy the good stuff headed your way. Whether these prizes are treasured by you or given as gifts to a loved one, I know you'll adore them. Thanks again to my
awesome
sponsors!
P.S.
Huge
thanks to
Freeborboleta Designs
for creating all the awesome Christmas giveaway graphics.
UPDATED: Using Random.org, comment #9 was selected: Sarah from GI Joe's Wife.
Congrats, Sarah!