When the holidays roll around, I consider it a sort of free pass to be more adventurous with my makeup than usual. For a girl like me, with a closet full of beige and black, that's saying a
lot
. Glittery nails? Why not? Bright eyeshadow? Sure! Bold lipstick? Oh yes. And that's why I'm so excited to have Ines here today.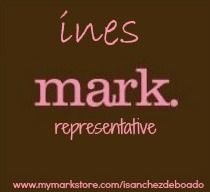 Here's a little about Ines and her mark. business:
"Hello everyone! I first want to thank Erika for hosting the Christmas Giveaway.
I started selling mark. back in February. I needed something to keep me occupied,
since I was having no luck in the job field. Aside from the great and affordable products
mark. has to offer it has allowed me to work at my pace and it has helped network.
G'luck to all the participants!"
What you could win: the compact above!
mark. "on the dot eye color compact" with 9 different shadows. They're shimmery and versatile, and perfect for any time of year. It's such a fun way to spice up your makeup!