I've seen other bloggers do wishlists in years past, but never had the desire to write one up myself- well, at least for people who weren't Sky or my parents. But after reading a Mel's
4 part list
and Fran's
book wish list
, I felt inspired to do my own. It's probably a little silly, but here we are- the wishlist of chambanachik.
The first few things are much more...reasonable. First off, this
Brown/Cream Double Handle Bag
from Target ($45). You know those heart palpitations you get when you see The Bag? I'm only kidding, but it was love at first click with this beauty. I need a bag with multiple carrying options when it's just Millie and I here. Number one on the list right now.
Of course, a
Life Planner from Erin Condren
($50). I'm not saying it because an Erin Condren gift card is a
prize in the Christmas Giveaways
(and is still open!). I won one last year and have used that gem more than I even imagined I would. I would be completely lost without it. And I hear it's improved this year!
Another
giveaway sponsor
this year has a treat I want-
Peppermint Foot Lotion
from InspriBody ($5.50). They tell you every pregnancy is different, and this time I'm experiencing the whole achy-legs thing (yep, already). This sounds so soothing.
This
Diamond Band Ring
from Amazon. ($69) has been on my list for a while. There is something simple and elegant about a small band like this.
I caught up with/became a big fan of the Mad Men series this year-obsessed, maybe- so the
Mad Men
Seasons 1-5 DVDs need to be included. There are shows I watch for the comedy, and others I watch for the information or thoughts they provoke- this one is one of the most well-written shows I've ever seen, and the script combined with the great acting, the costumes, and the direction blow me away every single episode. Oh, and the
first season closed
with a Dylan song. That didn't hurt.
Yes, I put this on my list before the movie came out-
The Lincolns: Portrait of a Marriage
book from Amazon ($11). Maybe it's being from Illinois, or maybe it's the way I identify with his struggles with depression (if you haven't read
Lincoln's Melancholy
, you
must
), but Lincoln is fascinating both as a man and as a president. This book would be very interesting.
And lastly on the list based in reality, I'm digging this
Illinois & The Other States shirt
from The Social Dept ($25). It just amuses me. I also liked the
Midwest Succeed
shirt (so random!), but some of the responses to the presidential election made it decidedly less funny.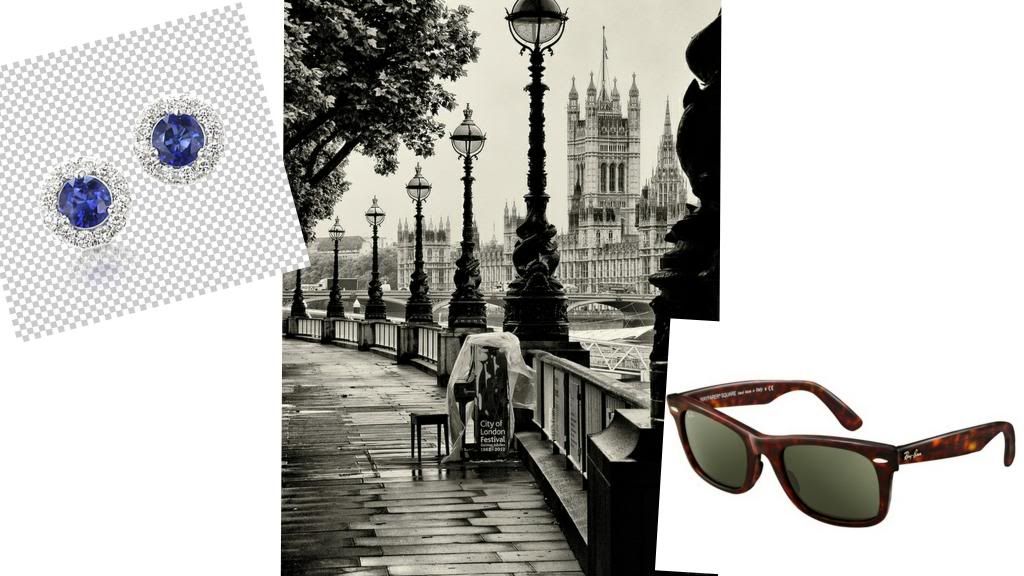 And now, for the three things less likely to ever be found under my tree, like these
Sapphire and diamond stud earrings
($2,800). Sapphire is my birthstone, but who are we kidding- these are beautiful no matter what your birth month. However, if the debate was ever earrings or car, I'm pretty sure that car would win out.
I've wanted a pair of
Ray-Ban Wayfarers
($125) for years. I have to admit, I've bought into their history- everyone from Audrey Hepburn to Bob Dylan has worn them- and they're probably the only pair of sunglasses everyone looks good in.
Lastly, plane tickets to England (photo
source
). If it doesn't happen until I'm 105, I
will
see it.
What are
you
most hoping to unwrap this year? And more importantly, what do you wish for that can't be found under the tree?