I remind Sky quite often that I just may be the world's best shopper. This week, I think he may have been convinced.
We don't really buy new clothes. Other than the occasional pull from the Target clearance rack, we buy all the things we wear from Goodwill, Salvation Army, and consignment shops. I would do the same thing whether I had $5 or $5,000,000 in the back- it just seems silly to me to buy something full price. (That theory goes past just clothing, but we obviously stick to sale items or store brands, and
not
half-eaten Oreos!) Millie goes through clothes too fast to buy her anything new anyway, and I can always find great things secondhand- plus, they're preshrunk for me!
So this week, Tanger Outlet Stores was giving away $10 gift certificates with a military ID. Sky and I each had one, so that was $20 for free. Even though it's a little drive from where we live, we decided it was worth it.
Oh boy, was it!
(
And for all your military families, the deal runs through Monday
)
We planned on visiting a few different shops, but ending up doing all our shopping at the Gap Outlet. Everything we bought was on clearance- marked low with additional discounts after the markdown.
We got to the counter with our arms loaded up with the following: one pair of jeans (me), one pair of yoga pants (me), one hoodie (me), one camisole (me), two very cute tank tops (me), two t shirts (me), two sets of pajama pants and tops (one for me and one for my mama), one t shirt (Sky- he couldn't find much he liked that day), and another item not pictured (a baby present for a friend who happens to read this blog!).
(these sets were about $3.50 each)
The total we should have paid for all of our items?
$363.40.
We paid $34.91 after our gift cards. I would have paid twice that for just the jeans alone.
We saved $328.49 (or about 90%).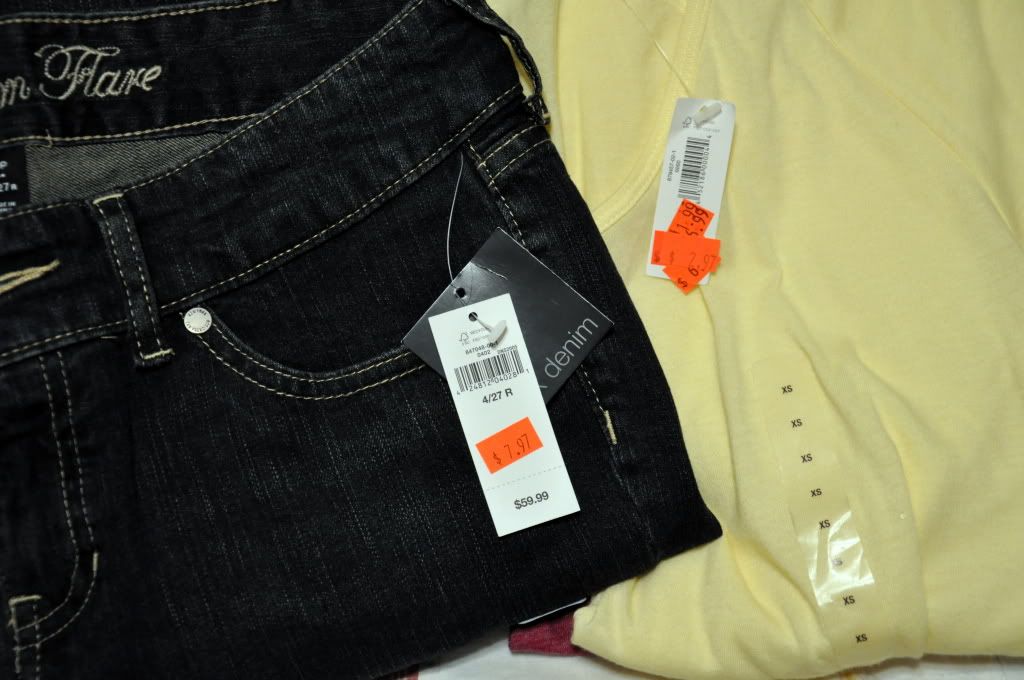 ($60 jeans I ended up paying $4.78 for, and one of the t-shirts)
I wasn't able to write the longer post I wanted to tonight, but now you all know what Sky knows, too.
I know how to shop!