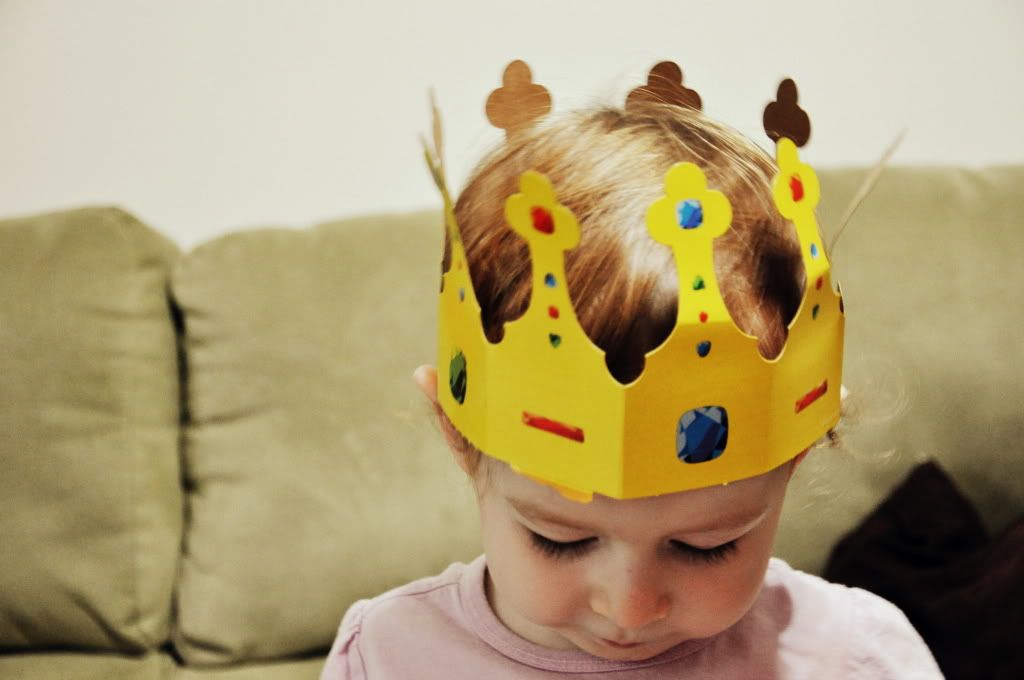 "It would be easy to be a princess if I were dressed in cloth of gold,
but it is a great deal more of a triumph to be one all the time when no one knows it."
It was a simple trip to a fast food restaurant, a quick stop before Sky had to be at work. But with the chicken nuggets and the tiny bag of apple slices came a cardboard crown. Millie reached for it immediately and declared, "Pretty princess!"
And though we have never said anything like it to her before, she somehow knew enough of the concept to decide she was royalty.
The rest of that cold, rainy afternoon and evening, she wore it. As it slipped down, she'd push it back up with one hand, reminding me every so often, "Princess." "Yes," I told her, "you are a princess. You look so fancy." She would grin knowingly. The next morning, she bounced out of her room to me, asking, "Pretty princess?" I handed her the worn crown, and she beamed.
It's funny how a cardboard crown, bent and beaten, made her feel so regal. Yet she was, despite the jeans cuffed up 3 times over and the t shirt stained from dinner. And sitting there with the crown on her head, I realized I've seen her that way since the second she was born.
And it was the smallest, sweetest reminder of how, undeserving as I am, God sees me that way, too.